West Hollow Boat Company

6880 West Hollow Road
Naples New York
14512
United States

Patrick Smith, professional boat builder, specializes in Classic Cedar Canvas Canoes. He is a Charter member of Wooden Canoe Builders Guild and a member of the Wooden Canoes Heritage Association.
The West Hollow Boat Company is located on 70 acres of hardwood forest in the Bristol Hills and the Finger Lakes Wine Country of Upstate New York. It is 30 miles south of Rochester, NY.

Pat in the shop
Pat has taught numerous schools of instruction in both new canoe building and complete restoration. He is an instructor at the Adirondack Boat Building School at Great Camp Sagamore, Raquette Lake NY. Pat helped found the school in 1998 and is currently the director of the program. Programs include new, restoration and the intergenerational grandparents/grandchildren camp.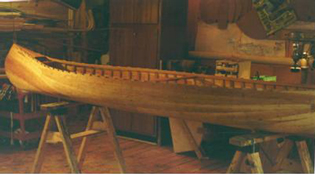 construction of a 17' Bristol Girl in the shop
The West Hollow Boat Company has 3 models, encompassing 15 ft, 16 ft and 17 ft. All models are "Patrick Smith" originals.

Bristol Girl 17 foot: all around" canoe. Easy and fun to paddle for all ages. The canoe is 16'10" long with 36" wide beam, 12" deep at the center, 22" deep at the ends, unladen weight of 65 pounds, which provides for easy portage. A 2" rocker provides the canoe with an ability to turn quickly and handle some rivers and mild whitewater: specify no keel for river use. The canoe can handle larger loads and tracks well either loaded or solo. This versatile canoe is designed for flat water use by families, or tripping with gear, either solo or tandem paddled.
Ragamuffin 15 foot: smaller, lighter canoe. Ragg-A-Muffin is a smaller version of the larger 17'Bristol Girl. It is designed to be used primarily as a solo-paddling canoe though it is able to handle tandem paddlers with gear. Ragg-A-Muffin has two hand caned seats; one hand carved carrying yoke, two small grab thwarts. The Ragg-A-Muffin proves to be easily portaged and moved around. The canoe, unladen weight of less than 50 pounds, measures 14' 10" long with a 34" beam, 12" deep at the center, 18" deep at the ends, and has a flatter bottom and some tumblehome.
Otter 16 ft:handles tandem paddlers and more gear than the 15' Ragg-A-Muffin. Dimensions are similar to the 15' but longer and slightly broader with a hint more tumblehome. Length is 15' 10" with 34 ½ " beam, 12" deep at center and 20 " rise at the ends, unladen weight 55 lbs. The canoe has 2 grab thwarts, a hand carved carrying yoke, two seats and 18" decks. The Otter is more versatile than the Raff-A-Muffin, but gives up some lightness to achieve the better stability and versatility. The Otter has become a favorite with traditional flat water paddlers and omaring due to its 16' length and great secondary stability that lends itself to this style of paddling.

All models can be ordered with several options in regards to wood selections, finish color, deck size, thwarts, carrying yoke, caned seats and accessories. Each canoe is hand crafted to deal directly with the customer's needs and interests.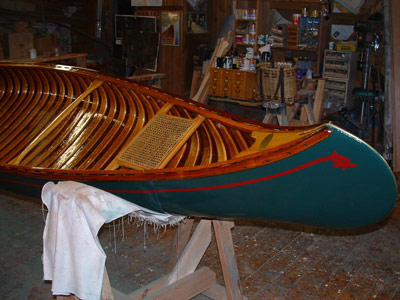 West Hollow Boat Company is equipped to do full restorations and repairs on any wooden canoe or boat, using the same high quality materials and exerting the same personal care to each step of restoration. Restoration costs are based on the extent of reconstruction. Estimated cost cannot be given until the canoe is assessed for type and extent of repairs.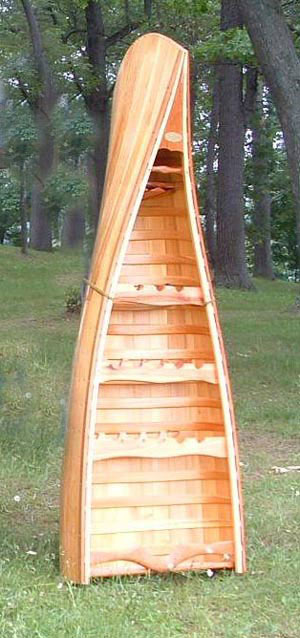 Pat offers custom made canoe furniture. Half a canoe creates a unique book case or wine hutch.
West Hollow Boat Company/ owner: Patrick Smith
phone: (585) 374-5014