Old Delta Canoeworks
228 Ct RD 42
RR#1 Delta, Ont. K0E 1G0

Canada

between Athens and Delta in the
heart of Rideau Lakes canoe country
If you are looking for an environmentally friendly water craft for today, a meaningful link to our historic waterway past or a significant heirloom for future generations, or maybe all 3, you have come to the right spot. At Old Delta Canoeworks we carry on the time honoured tradition of cedar canvas canoe construction and repair using the same manual techniques and technologies that were developed 130 years ago to produce this type of canoe.
Through the selection of high quality materials and attention to detail we aim to produce canoes that are aesthetically pleasing and highly durable for many years of enjoyable use.
Restorations

If you already own a cedar canvas canoe that is in need of repair or complete restoration we can do the job. We can take what may appear to be a total wreck and turn it into a 'like new' canoe. We pay attention to detail and use the WCBG standards for building of new canoes where ever they can be employed in the reconstruction process.
All replacement parts are custom produced in our shop using only non ferrous fasteners, quality wood and industry leading paint and varnish by Epifanes of Holland. We can cover canoes with traditional cotton canvas or with our specialty fabric which is polyester Dacron. This tough fabric was developed for use in the aviation industry on small aircraft. On canoes (blue canoe below) it provides a durable and attractive covering that is rot resistant and will reduce the weight of a typical 16' canoe by 8 to 10 lb over covering it with canvas.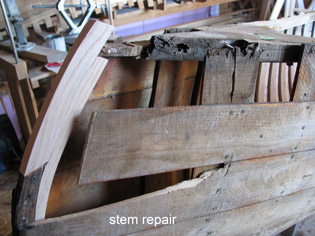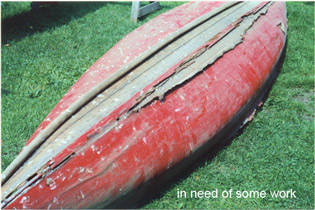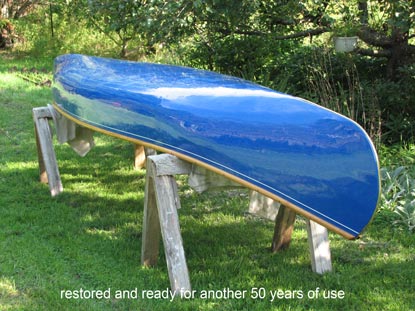 New Canoes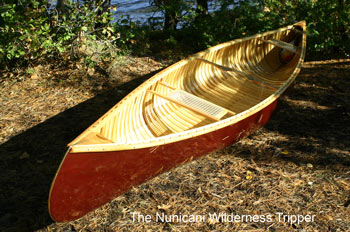 At Old Delta Canoeworks we have designed and make one model of 16' tripping canoe named the 'Nunicani Wilderness Tripper'. The canoe has many design features specifically intended to make it an outstanding tripping canoe. The 15 ½ inch depth, shallow arch hull, moderate rocker and narrow beam make it quick and responsive even under a heavy load. It is covered with our specialty fabric, polyester Dacron to give a durable, lightweight and rot resistant covering. Great care and attetntion is given to the varnish and paint jobs which compliment the black cherry decks and deck thwarts. The ribs and planking are radially cut white cedar with ash seat frames, carrying yoke and outwales. This canoe is an excellent tripping canoe on large open lakes and as you can see below is also a great canoe to paddle solo!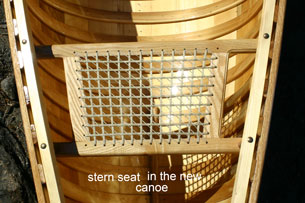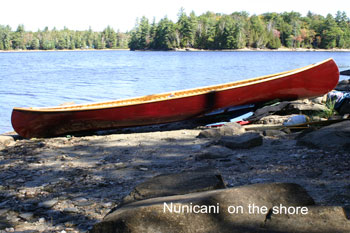 Quality materials and craftmanship combined to produce an elegant canoe.
The Numicani Wilderness Tripper: an outstanding tripping canoe
length: 16 feet
width: 33" at midship gunwales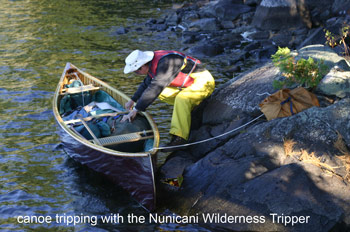 depth: 15 1/2"
hull shape: shallow arch
rocker: moderate
tumblehome:midships for solo paddling
quarters:straight to deflect heavy waves
keel:none for high manoverability

planking and ribs: radially cut white cedar
trim:black cherry decks and deck thwarts
ash carrying yoke: standard
ash or red oak outwales
ash seat frames with rot resistant nylon caning
covering: rot resistant Dacron
fasteners:all non ferrous, brass, silicon bronze, stainless steel
weight:58lb
*All wooden surfaces are sealed with varnish prior to assembly so there is no bare wood anywhere in the hull. All exposed surfaces are covered with 5 coats of Epifanes marine spar varnish. Paint coat: the hull receives 3 coats of Epifanes marine enamel over 2 coats of Epifanes primer.
Hand Crafted Hardwood Paddles
Our quality hardwood paddles are designed for maximum comfort and high performance and will complement your new or restored canoe. The blade design was originated by Omer Stringer a well known Canadian paddler. The blade is 5" at maximum width and cambered in cross section producing an excellent paddle for both tripping and solo paddling. The shafts are ash, the blades and grips are black cherry. The blade sides are epoxied to the shaft with 6 biscuit joints, the blade is coated with 3 coats of epoxy and the shaft and blade receive 5 coats of Epifanes marine spar varnish. The grip is coated with linseed oil to prevent blisters. Lightweight and well balanced the paddles are a joy to use both for extended tripping and solo paddling.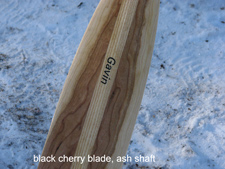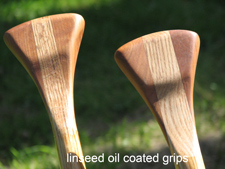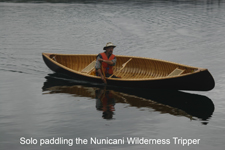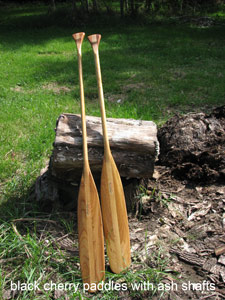 Old Delta Canoeworks/ owner: Dave Alguire
phone: (613) 928-2850