Longwood Canoes
10704 Kerr's Ridge Road
Mountain, Ont. K0E 1S0

Canada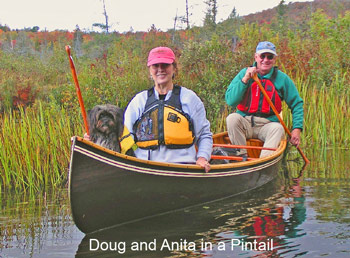 Hello, my name is Doug Long. I have been repairing and restoring wooden canoes since my retirement from my position as a professional engineer in 1996. For me, the construction of cedar & canvas canoes represents the perfect combination of my life-long love of wood, woodworking and the outdoors. In building my canoes, I use only the best materials and my best woodworking skills (even where it doesn't show) to create beautiful, but rugged, canoes which will provide a lifetime of service and pleasure. In finishing each canoe, my goal is to make it pleasing to the touch and to the eye. The person who buys a cedar & canvas canoe today, when there are so many alternative materials, does so primarily for reasons of aesthetics - for the unmatchable beauty and paddling characteristics of a wooden canoe. With this in mind, it is my goal to produce the finest canoes possible.
CANOE MODELS
Presently I offer two canoe models; the "OSPREY", a 16 foot modified Prospector which can accommodate major tripping loads and the "PINTAIL", a 15 foot recreational or light tripping model which excels when paddled solo. While the forms on which these canoes are built dictate the hull shapes, a degree of customization is possible in the selection of woods for gunwales, decks, thwarts and seats. A keel, carrying yoke and hand caned seats are available options. Colour is the buyer's choice. If desired, a canoe can be personalized with the buyer's name or other identification engraved into the thwart or stern deck.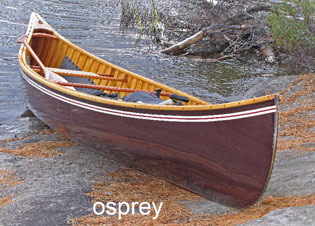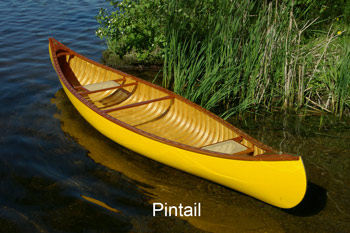 OSPREY

16 ft.
36 ½ in.
25 in.
13 in.
75 lb.

LENGTH
BEAM
BOW HEIGHT
DEPTH
WEIGHT

PINTAIL

15 ft.
33 in.
21 ½ in.
12 in.
65 lb.
"The PINTAIL is the best all
round canoe I have paddled".
P. Nielsen
Lerum, Sweden
CONSTRUCTION CARE & QUALITY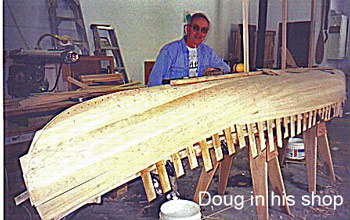 Each of my canoes is built using traditional methods and materials. The materials I use are the very best available and most of the wood used is locally grown and sawn.  All ribs and planks are of eastern white cedar which is not only traditional but is acknowledged to be the best wood for these components. Having secured sources of premium quality cedar, I use quarter sawn (also known as vertical grain) wood for all ribs. I am also able to offer canoes with quarter sawn planks in the bottom and bilge areas where the extra strength and stability of this wood is important.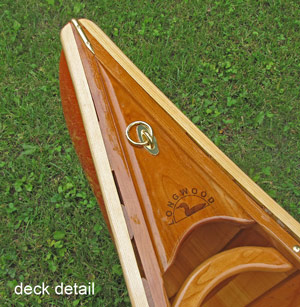 White ash or spruce is traditionally used for both inner and outer gunwales but I prefer a combination of woods that is more attractive. I usually use white ash or white oak for the outer gunwales and black cherry for the inner gunwales. The harder wood in the outer gunwales provides great strength and toughness while the cherry inner gunwales provide the unmatched beauty of this wood. With this combination, the decks, seats and thwarts would also be black cherry.
All surfaces that will be concealed after construction, such as the inner surface of the planking and gunwales and the outer surface of the ribs are sealed with varnish before installation to eliminate hidden, raw wood which would be prone to absorb moisture. Prior to canvassing, the sanded hull is given a sealer coat of varnish for the same reason. The canvas used is pretreated with a fungicide to inhibit rot. After installation it is 'filled' with a traditional silica-rich filler to create a hard, smooth surface for painting. The cured filler is over coated with three or more finish coats of paint; with each coat being sanded before the next to achieve maximum smoothness. The paint used is a marine enamel imported from Holland. All exposed wood receives at least four coats of marine varnish from the same Dutch manufacturer. All fasteners are of either brass or bronze (where they show) or stainless steel (where concealed). The superior strength of stainless steel allows me to achieve stronger and tighter joints in critical areas.

REPAIR AND RESTORATION
An important part of wooden canoe work today involves the repair or restoration of older canoes that have suffered the wear and tear of use and the ravages of age. It is a fortunate characteristic of cedar canvas canoes that any part of them can be replaced and the canoe restored to full, like new, structural integrity. While it is usually impossible to remove all the signs of the aged finish and wood, the new finish that I apply is almost certainly superior to the original because of the better materials now available and the extra care that I take. To the greatest extent possible I repair and restore canoe to the same standards I use in building new canoes. While it is sometimes sad to see what has happened to the former beauty of these canoes, it is very satisfying to bring them back to life. Most satisfying of all is to return them to their owners and see their looks of joy and amazement at the transition of their old canoes, many of which have been in their families for generations and to which they have strong sentimental attachments.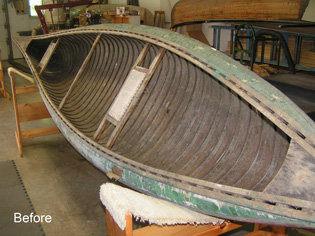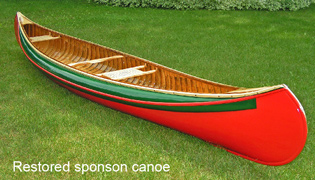 A 1940's Peterborough Sponson Canoe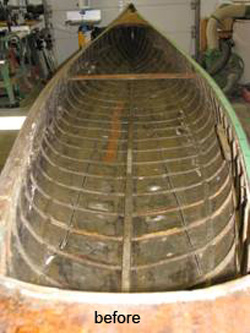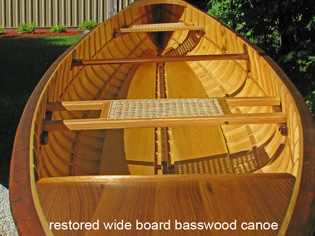 A 1920's wide board basswood canoe

Longwood canoes/ owner: Doug Long
phone: (613) 989-2856