Lew's Canoes

11180 Centerline Rd.
South Wales NY
14139
United States

Lew Markle is a builder of traditional wood/canvas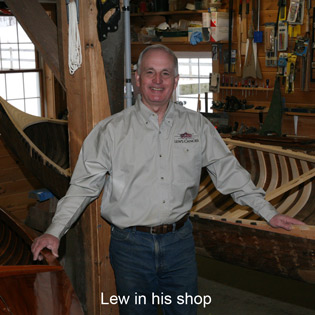 canoes.  Since 2001 he has operated "Lew's Canoes" from his home in South Wales, NY, USA, about 15 miles SE of Buffalo.  Lew is a member of the Wooden Canoe Builders Guild and the Wooden Canoe Heritage Association, and he is frequently asked to lecture to groups who are interested in the history and traditions of the wooden canoe. In addition to running his full-service canoe shop, Lew is pleased to be working with the Buffalo Maritime Center on their boat building program.
Lew's commitment to quality work:  "Each canoe that leaves my shop, whether it is a new canoe or a restoration, reflects my commitment to craftsmanship and the continuation of the heritage of the wooden canoe.  I use the finest materials I can find and methods that were perfected a century ago.  My goal is to build a combination of beauty, strength, and simple elegance into each of my canoes, so that you and your family can enjoy it for generations to come."

New Canoes:
Moondance – a sleek 14'6" solo canoe
Sundance – a 15' canoe with classic lines, solo or tandem
Ausable – a 16' all purpose tandem canoe
Allegheny – a 17'4" classic guide style canoe



Restorations and Repairs:
Full shop services available, from simple repairs to complete restorations.
Accessories:
Wannigans in two sizes, and wine racks/bookcases – all built to order with select materials.
Shop visits are welcome – please call ahead. While you are here, plan to paddle a wood/canvas canoe on our 3 acre pond!

Lew's Canoes / owner: Lew Markle
phone: (716) 655-0098