Fletcher Canoes

Box 1321
Atikokan Ontario
P0T 1C0
Canada




Qualtity, Reliability and Performance in one Beautiful Package
The Begining of Fletcher Canoes
Fletcher Canoes began in 1986 by Paul Fletcher on the "marge of Lake Lebarge". Paul combined his knowledge gained working for Studebaker and MacDonald Douglas Aircraft with his love of canoes to design the "perfect canoe". He built a mold, using his skill as a welder and woodworker, a steamer for the ribs and the molds and jigs required to bend and shape the wood for his first canoe, a 17 1/2' model.
Paul's canoe was yet unamed. It so happened that Bill Mason, Canada's paddling Guru, was in Whitehorse doing a presentation on canoeing. Paul went to talk to him and asked him to come and see the canoe he had built. Taking time from his busy schedule was not easy for Bill, but he went out. So impressed was he with the canoe that he went back twice more. Paul told him the canoe had not been named and asked if he could put Bill Mason's name on it. Bill said yes, but there was one stipulation- it had to be called the "Bill Mason 'Heavy Duty' Special" to reflect the canoe's large capacity and durability.
Paul wanted to design a smaller canoe that was better for a solo canoe but still capable of carrying 2 people. Borrowing from the lines of the Micmac Indians' canoe, he designed a 15' canoe. It was such a pretty canoe that he decided to call it "Fletcher's Fancy".
Both canoes are at home on a big lake or whitewater, their semi-arched and slightly rockered bottoms offering amazing manoeuverability and quick response. They are both "traditional" canoes meaning that they are built entirely by hand using techniques perfected through years of experience. If you haven't paddled a cedar canvas canoe, you should try to get the chance. You won't be disappointed!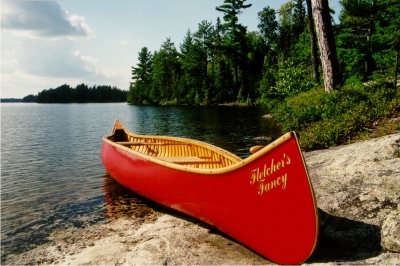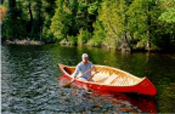 Fletcher Canoes in Atikokan
In 1991 we travelled to Whitehorse to pick up our "Bill Mason 'Heavy Duty' Special". Paul Fletcher, my Uncle, told us that he wanted to retire and to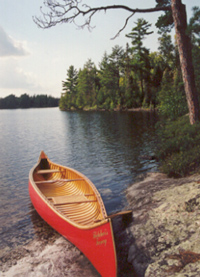 sell his business. We decided, as a family, we would like to continue his legacy and learn to build the canoes. My husband, Randy, was a shift worker and he thought he would be able to build on his days off and our older son, Michael, was in Grade 12 so he would soon be able to join the team and build as well. Our younger son, Ron, was ready to help out any way he could. Randy travelled to Whitehorse to begin learning to build. In 1992 we built a house just outside of town so we would have the space to have a workshop. In 1993, Randy and Michael again went to Whitehorse, this time to bring the business home to Atikokan. Uncle Paul came too to help set up the machinery and to continue teaching his craft to both Randy and Michael.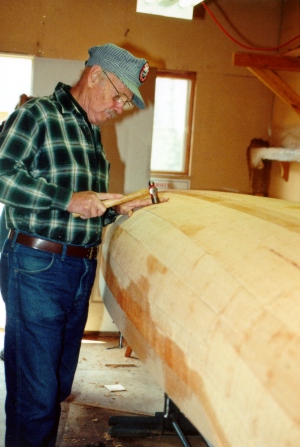 And so it began- Randy and Michael building, me caning the seats and Ron helping with maintenance around the house and workshop. Gradually I took
on more of the tasks like painting, sanding and varathaning, and in 1997 I quit my job as a teaching assistant to work full time in the shop. Michael had
decided he wanted to move away to go to school and our business had grown so Randy could keep up the work as well as doing his other job. I had become a canoe builder!!!
It's the best job I've ever had. I love every part of it and I am thrilled to meet the new customers and see their expressions when they see their canoe for the very first time. I have made many new friends and many return every year when they go on holidays just to say hello. Being a part of keeping the tradition of canoe building alive is a rewarding career and one I hope I can pass on to one of my six grandchildren, but not for a while; I still have a lot of canoes in me to build.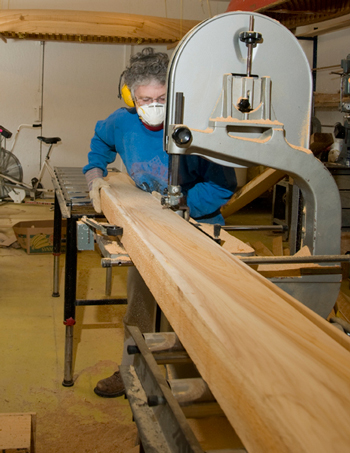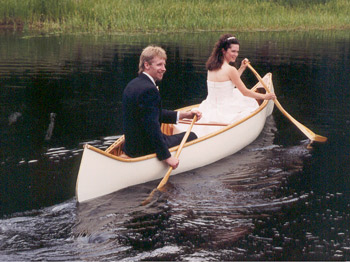 The Bill Mason 'Heavy Duty' Special
Bill Mason, canoeist, author, film maker and conservationist has, with his enthusiasm and consummate whitewater skills, inspired countless numbers in a return to and a respect for the splendour of our wilderness, in company with the most functional and beautiful thing ever created by man - the wooden canoe.
Mason was impressed with the lines, workmanship and handling abilities of this canoe, and gave it his enthusiastic endorsement.
Letters from Bill Mason
Paul Fletcher and Bill Mason developed a friendship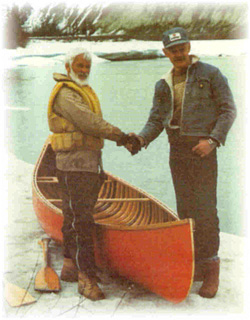 after Paul showed Bill one of his canoes. Impressed with the lines of the canoe, Bill agreed to have his name on it.
Bill, who was to receive a canoe from Paul, wrote of it in several letters:
Hey! That's one hot looking brochure. the shot of you and I looks great. Best shot anyone ever took of me. And you look pretty good, too. But of course the canoe looks better than the two of us put together. You really do make a beautiful canoe. I am very excited about getting my hands on it. I am going to try very hard to get up that way this summer.
I am impressed with the sweeping up gunwales at the bow and stern. Most canoe makers now-a-days really let down on that. It's difficult to put that rise in so they don't bother. It makes for a very seaworthy canoe. Sure, the wind catches it, but that's where the skill comes in.
In another letter:
Just a note to let you know someone might be calling you about getting my canoe shipped down. They are moving to Ottawa and might be able to take it with their stuff. I hope it works out because I am really anxious to use it. I want to try it on some big stuff like Georgian Bay or Lake Superior.
Later:
Ivory would be great! Sure looking forward to it. I'll get some nice action shots for you...
I am really thrilled about the canoe. Of all my canoes, I don't have anything that resembles yours in dimensions.
In another letter:
I was really pleased to hear from you, and I am very excited about the canoe. I would love to add a Paul Fletcher (Bill Mason Special) to my stable of canoes. Some day I will pass it along (after I'm gone) to the Kanawa Canoe Museum. It's the largest canoe museum in the world, and should have one of your canoes eventually. But not before I put it to very good use. I am excited about it. I love having all different kinds, and as I said when I was there, I was very impressed with the lines and workmanship of yours.
Once again, Paul, I am very excited about the canoe. I will be very proud of it. Meanwhile we will see what can be done about getting it home. I am pleased to have my name on it.
Sincerely,
Bill
P.S. I'll get some really good shots for you in big white water.
Fletcher Canoes/ owners Thelma Cameron & Randy Cameron