Bearwood Canoe Company

311 RR #3
Parry Sound Ontario
P2A 2W9

Canada
The shop, near Parry Sound, Ontario, is located in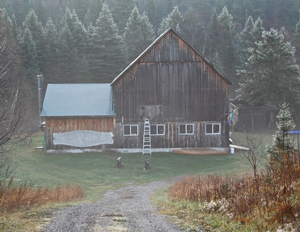 this renovated 1920s barn, and is complete with a finishing paint room, essential for the top quality finishes on all Bearwood Canoes. The Seguin River winds around the back of the barn and is a perfect spot for test paddling a canoe.

Pam makes 14, 15 and 16 foot canoes. Each new canoe is carefully hand crafted using Ontario white cedar for ribs, sitka spruce inwales, and full length vertical grain western red cedar planking. Cherry outwales, decks, thwarts and yokes can be substituted for woods of your own choice. The mould that Pam uses for her 16 foot Sequin, is designed after the famous Chestnut Pal; the 15 is a stable paddler, designed by David Yost and the 14 foot is a beautiful replica of the famous Gerrish canoe popular at the turn of the late 19th century. They are all beautiful designs and a pleasure to paddle.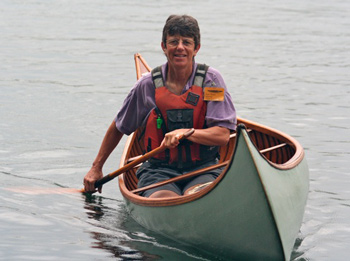 Bearwood Canoes offers lightweight models for each of the designs, using aircraft dacron instead of canvas for the covering. This tough polyester fabric, used on airplanes for more than 60 years, provides a smooth, surprisingly durable outer skin while saving about eight pounds on a canoe. The 16 foot Northern Light weighs in at 53 lbs; the 15 foot Heritage is 46 lbs and the Gerrish replica (left photo) is around 42lbs.

Along with the custom built canoes, Bearwood provides repairs and restorations of all small wooden craft. By popular demand, we also offer the option for you to build or restore your own canoe. These courses in both new canoe construction and restoration are offered throughout the year. Check our websites for dates and details.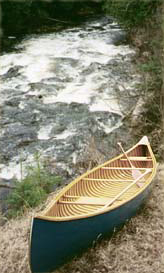 The sixteen-foot Bearwood Sequin is wonderful as both a graceful, responsive cottage canoe and a medium-duty tripping canoe.


Pam in her shop
Bearwood Canoe Company / owner Pam Wedd
fax: (705) 732-1680/ phone: (705) 732-1273